Operational Integrity & Reliability
Transient Voltage Solutions
REAL PEOPLE. REAL SOLUTIONS. REAL RESULTS
Maxivolt is more than a long-established American manufacturer of surge suppressors. We are an operational integrity and reliability partner. Combining premium products with proven application strategies, training, and consulting; we deliver extraordinary results for our clients. Big box, generic surge suppressors and cookie cutter application theories do not deliver the outcomes Maxivolt does. This is how we've established our fiercely loyal client base over the past 35 years.
SOLUTIONS FOR ALL INDUSTRIES
KEEP YOUR OPERATION UP & RUNNING
We have over 35 years of experience in a wide variety of industries around the globe enhancing the integrity and reliability of the critical systems our clients depend on every day.  Whether it's residential, commercial, industrial, or public works, our experts have the skills and knowledge you're looking for in a partner.
"I have used MVC products for over ten years now. I use the ICP-110S for protecting my PLC's and the MV-400P on all VSD's for complete protection. I also have one for my house to protect the entire home. These products have saved thousands of dollars in repair and replacement costs. "
Odessa
Texas
"The surge protectors installed for us seem to have done the trick. We have had no problems to speak of since they were installed. We have had several power outages and our computers come back up on line with no problems. Thank you for helping us solve this problem."
Glendale
Arizona
"I have been in the business world for over 35 years. I really do appreciate great customer service. I am most impressed!"
Columbus
Ohio
"My sister lives in the house next door to mine, our homes are fed off the same transformer. Both families were away during a strong storm last week. When we returned I noticed only a light on my MV-100. My sister lost her TV, computer, and perimeter lighting. I have no problem endorsing your equipment and will promote its use whenever I can."
Johnson City
New York
"Before installing MVC devices we had lots of problems caused by surges. Once we installed your devices most, if not all, the problems went away. It's a great product and we're more than happy with the results."
Tulsa
Oklahoma
"All of the employees of your company, no matter what capacity they serve in, make it clear that their number one goal is taking care of me. I know I'm not the only customer you have, but when I call, you make me feel that way."
Kalispell
Montana
"In the past we have lost some very expensive gear due to lightning. Since we installed your products we have had the oppurtunity to put them to the test. At one of our remote compression stations a lighting strike took out the transformers, but the motor starters downline from your equipment were protected. Thank you for all your support and excellent products."
Gillette
Wyoming
"MVC is so easy to do business with and you guys provide unlimited customer service. Because of people like you, my job is a lot easier."
Oklahoma City,
Oklahoma
"I have installed several Maxivolt units in our facility and have obtained very favorable results. The people in our facility that had been previously plagued with equipment failures are no longer beating down our doors with complaints of computer failures, machine related problems, and burned components from spikes and surges."
Dallas
Texas
"Thank you for your quick response and concern about my problem. It's nice to see an American company that still cares about their products and service."
Pueblo West
Colorado
"I am happy to report that the average 4 month run at this well site is now at 18 months and still running. I am convinced that the extended run life in this application is a direct result of the MVC surge suppressor. Thank you for building a quality product."
Albuquerque
New Mexico
"Our test facility water well has had MVC surge protection for about 9 months. We have not experienced any failures in that time. Prior to installing your products we had replaced a controller twice in 6 months. Maybe its luck, but I believe having your devices installed is the reason we have stopped having problems."
Houston
Texas
"Before your help, we had downtime in our mill almost every time there was a lightning storm. After implementing your recommendations and MVC's equipment we have had no trouble in the area. I believe the investment in the equipment more than pays for itself and would recommend it to others."
West Monroe
Louisiana
35 Years Experience & Knowledge Of Industrial Electrical Systems
Our team of Project Managers and Engineers are eager to begin developing a solution that fits your operation and aligns with your priorities.
Transient Voltage surge suppression
NEXT LEVEL OPERATIONAL INTEGRITY
Keeping your systems up and running provides a long list of benefits.  Reduced maintenance and replacement costs save time, money, and headaches.  Increased uptime boosts productivity and keeps you and your team focused on doing what you do best.  Make it happen with Maxivolt.
Get insight into the world of surge suppression and witness some of the innovative solutions we're implementing for clients around the world.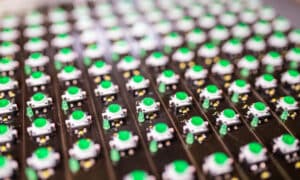 KEY INSIGHT New lighting technologies have overtaken the lighting industry based on low energy consumption and long-life expectancies.  The energy savings are real, but many
Read More »
Ready to get started? Have questions? Need a quote? We're here for you!
We want to hear from you.  Call, email, or fill out the form and one of our specialists will be happy to answer any questions you may have about our transient voltage solutions.